9 Must-Haves for an Employee Handbook
Does the law require your business to have an employee handbook? No. However, you should work with a professional to create one (if you haven't already) because the biggest benefits of a company handbook are reducing the risks of legal trouble, letting employees know their rights, establishing safety, building a strong company culture, and making employee onboarding more efficient.
HubSpot says it perfectly in their employee handbook slideshow: This document is part manifesto and part employee handbook. It's part who we are and part who we aspire to be.
To help you get started, here are the must-haves you need to know when searching for how to create a company policy handbook.
1. Company-Specific Information
First and foremost, your employee handbook should have detailed information about company-specific topics like who you are and, therefore, who your team members represent in everything they do for you. This will act as an easy place to reference for refreshers as well as new-hire learning.
This section will include the following:
Vision

Core values

History

Mission statement and more
2. At-Will Employment Statement
Your at-will employment statement is an agreement between you and the employee, stating that either party may terminate the employment as they see fit, as there is no predetermined time frame of how long the employment must be. It states that the termination can happen anytime without notice and cause. However, not every situation is considered 'at-will' and covered under this statement.
3. Federal and State Laws
Depending on the company type and state you're in, there are important laws you'll need to include in your handbook. According to the U.S. Department of Labor (DOL), there are more than 180 federal laws to stay up-to-date on. These are a few of their mentions:
State labor laws can vary widely. To stay up-to-date on the latest regulations in your state, click on your state in this Department of Labor list to access applicable laws in your area.
4. Time Off, Leave, and Attendance
Address all your leave and time off policies in this section, such as how long employees have off, whether paid or unpaid, notice time before leaving, etc. Detail time off for holidays, vacations, and leave. Note that caring is key in your business, and having an accessible resource for them to reference time off and leave information shows you value their time within and outside the company.
Examples required by law for leave include:
Sick leave

Family leave

Voting leave

Domestic violence leave

Covid-related leave (required for only select states)
For attendance, include your remote work guidelines, capacity limits, and travel policy.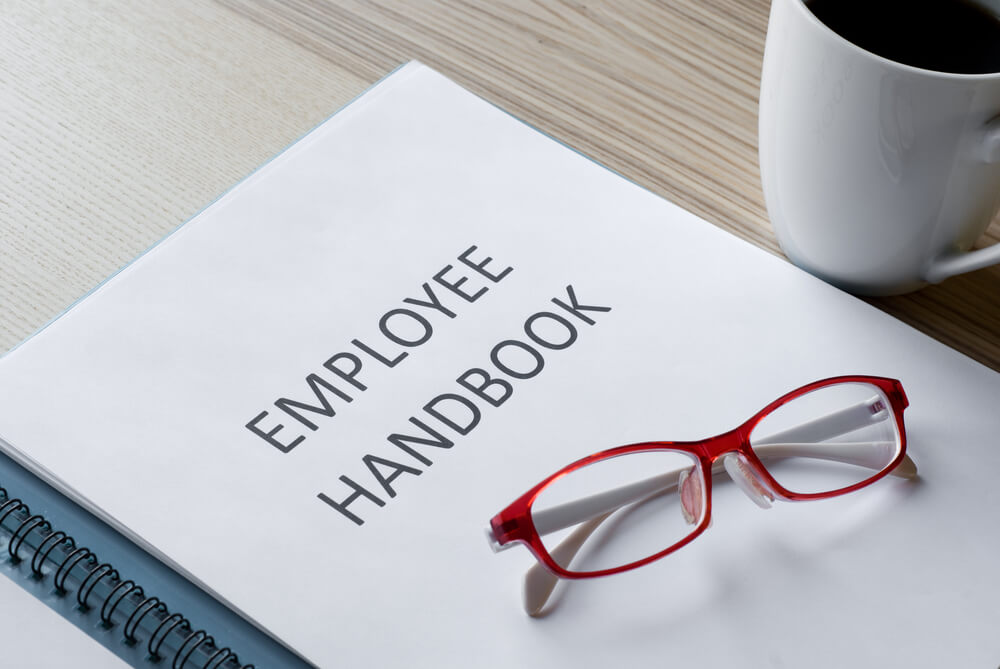 5. Timekeeping and Pay
Having a policy and procedure for recording time is crucial to reducing time theft (both intentional and accidental). It ensures employees are up-to-date on methods for recording time to avoid mistakes, what tasks and actions do not constitute on-the-clock work, so they don't include them, etc. For pay, you'll need to have frequencies of paydays, how they receive payment, how holidays may affect paydays, and more.
You may consider splitting information into two sub-sections for non-exempt and exempt employees to make it easy for team members to locate the most relevant information.
6. Non-Harassment & Anti-Discrimination Policy
Non-harassment and anti-discrimination policies in your handbook communicate to your team members what your policies are, define and provide examples of prohibited conduct, provide reasonable accommodations, and more.
You'll find some great non-discrimination and anti-harassment policy tips on the U.S. Equal Employment Opportunity Commission page.
7. Emergency Preparedness Policy
Emergencies can create a variety of hazards for workers in the impacted area. Preparing before an emergency incident plays a vital role in ensuring that employers and workers have the necessary equipment, know where to go, and know how to keep themselves safe when an emergency occurs. An emergency is an unforeseen situation that threatens your employees, customers, or the public; disrupts or shuts down your operations; or causes physical or environmental damage.
Emergencies may be natural or manmade and include the following:
Floods

Hurricanes

Tornadoes

Fires

Toxic gas releases

Chemical spills

Explosions

Civil disturbance

Workplace violence resulting in bodily harm and trauma
The best way is to prepare to respond to an emergency before it happens. Few people can think clearly and logically in a crisis, so it is important to do so in advance, when you have time to be thorough. Brainstorm the worst-case scenarios. Once you have identified potential emergencies, consider how they would affect you and your workers and how you would respond. When developing your emergency preparedness plan, it's a good idea to look at a wide variety of potential emergencies that could occur in your workplace. It should be tailored to your worksite and include information about all potential sources of emergencies. Developing an emergency preparedness plan means you should do a hazard assessment to determine what, if any, physical or chemical hazards in your workplaces could cause an emergency. If you have more than one worksite, each site should have an emergency action plan.
At a minimum, your emergency action plan must include the following:
A preferred method for reporting fires and other emergencies

An evacuation policy and procedure

Emergency escape procedures and route assignments, such as floor plans, workplace maps, and safe or refuge areas
8. Meals and Breaks
It may not seem detrimental to your workflow at a glance, but a set timeframe and rules for meals and breaks can help ensure employees stay on track throughout the workday. Include your allotted frequency and duration in the policy, and ensure it is aligned with the subject's federal, state, and local laws.
9. An Employee Acknowledgement Form
When it's all said and done, you'll need a form for your employees to sign, acknowledging that they've read the handbook and are now responsible for knowing and understanding its contents. These documents will be signed by both the employee and the President of the company, appropriately documented, and ready for use in any potential legal disputes. We recommend making signatures on the form a staple for working for your company, as you cannot force anyone to sign it that doesn't want to.
These are just employee handbook must-haves. The right PEO will have the complete list of rules, policies, and procedures you'll need to document.
Ready to connect with PRO? Reach out to us to develop or update your employee handbook. And feel free to draw from our expertise to ensure your employees have all the company resources they need to keep your company compliant, stay safe, stay in line with your culture, and take advantage of your incredible benefits!